At the Vertical Challenge, first-time ski trippers can have fun both on the slopes and at our festival. To make sure they have the best experience, in this blog post we offer some tips about what should be on their packing list.
If you're getting ready for your first family ski trip, there are probably a lot of things running through your mind, right?
We get it. The excitement and anticipation are high, but there is also a rightful dose of questions and uncertainties. Are there any indispensable ski or snowboard elements you should pack? Do kids need specific items? And the list can go on and on…
But don't worry, hesitation is totally normal, especially for first-timers! Fortunately, we can help you calm the anxiety with proper planning and preparation. As the saying goes, "a man who does not plan long ahead will find trouble at his door."
So, today we will share with you a handy checklist with all the ski and snowboard elements (and more!) necessary to enjoy your first experience on the slopes. From gear and clothing to a first aid kit and a backpack, we cover it all!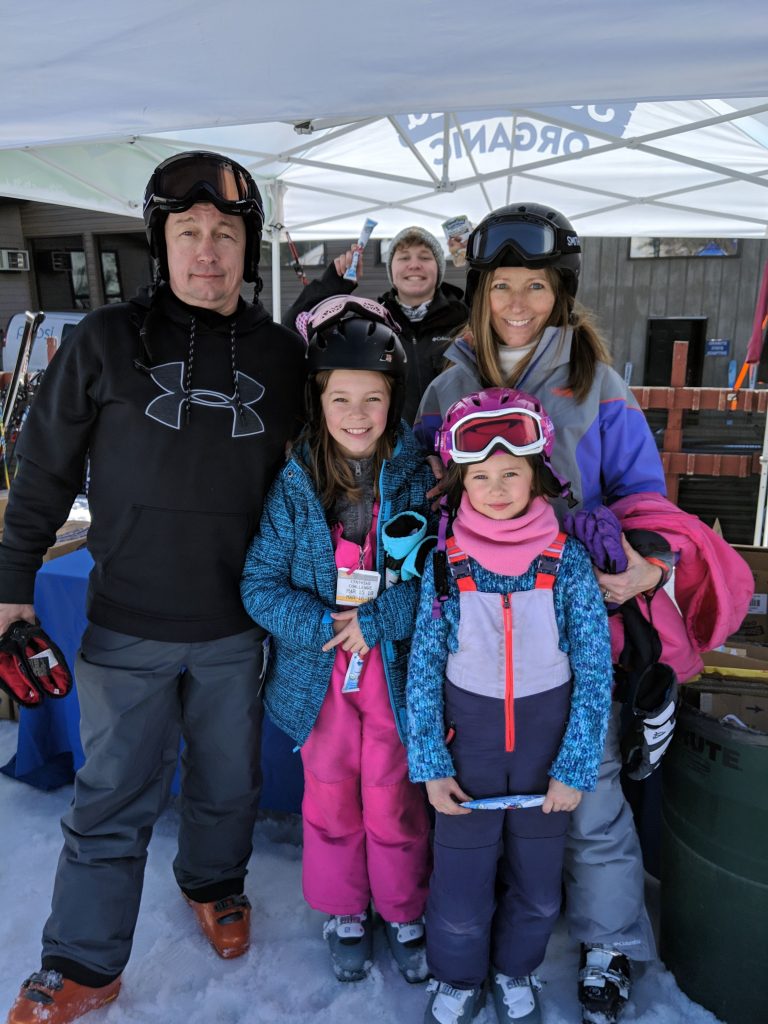 Essential Ski & Snowboard Elements
Aside from the fundamental gear like skis, poles, snowboards and boots, here's a list of essential elements that you should pack for your first ski trip.
Ski Jacket & Snow Pants
Ok, this may sound obvious, but having a warm, insulated, water-and-wind-resistant ski jacket is absolutely key. There's nothing worse than being cold or wet, especially on the mountain where it can get extremely cold and cloudy in a matter of minutes.
And the same goes for snow pants. Much like ski jackets, snow pants are designed to keep you dry and comfortable, no matter the weather conditions… or how many times you may fall while learning the new sport!
And you should know that if you fall while you're making your way down a Vertical Challenge race course, our crew will encourage you and still think you're awesome! And even help you back up if you need it.
Pro Tip: One word: layers. We can't stress enough how important it is to dress in layers, especially with thermal clothing, like leggings and t-shirts. Remember, don't rely solely on your snow pants and ski jacket, and dress in layers to stay warm.
Gloves
Insulated gloves (or mittens!) are another essential ski element. Your hands will be in contact with snow constantly, so you will want waterproof gloves that can keep your hands warm and dry.
Also, when shopping for gloves, make sure they provide enough dexterity so you have a good grip and can easily grab onto ski poles.
Helmet & Goggles
For first-time skiers or riders, safety gear is all the more critical. A good helmet will keep your head extra protected from injuries. So, whether you purchase or rent it, don't try skiing or snowboarding without a proper helmet.
As far as goggles go, you will also want to keep your eyes and vision protected from precipitation, glare, and fog. Just keep in mind that goggles often fit differently depending on the helmet you're using, so we suggest trying them on once you have your helmet.
Sunscreen
Wait, what? Sunscreen in winter? Yes, that's right: you are going to need sunscreen, and lots of it.
In case you didn't know, snow reflects a lot of UV radiation. In fact, it reflects the sun more than water does, which is why any exposed skin (mostly your face) is at risk of getting sunburn. Don't rest on your laurels because you lathered up at the beach: even on cloudy and freezing days, use sunscreen.
One of our long-time sponsors, Dermatone, offers a wide range of sun protectants, many of which resist water and sweat, making them perfect for a day on the slopes. And, while you're at it, don't forget to use lip balm with SPF to keep your lips from getting chapped. And because we care about your skin's health, you can get a free sample of Dermatone's version at our events!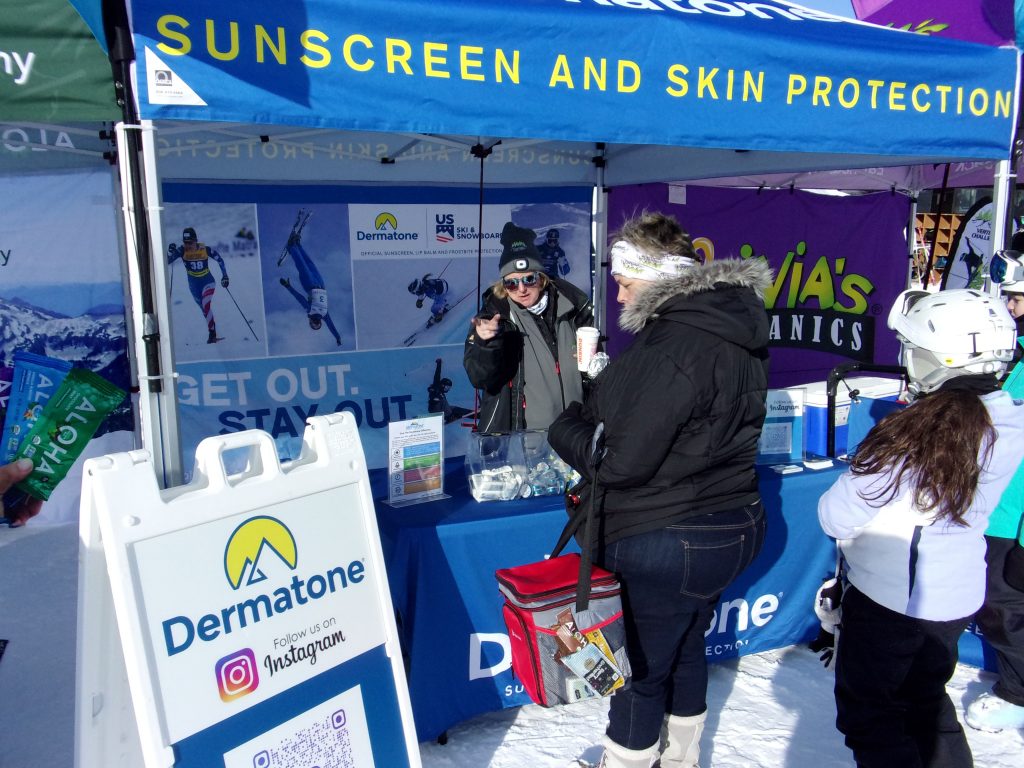 First Aid Kit
It's hard to avoid getting a few bumps and bruises on your first ski trip, so you better be prepared! You don't need to have a big, fancy first aid kit; just make sure to have some essentials, like band-aids, ibuprofen or aspirin, and sunscreen.
You can also add aloe gel for sunburns (in case you forget to use sunscreen!), cough and cold medicines, and antiseptic wipes to disinfect any potential wound or clean your hands.
Backpack
To make sure you really are prepared for anything that might happen, you'll need a backpack where you can pack sunscreen, your first aid kit, an extra pair of socks, hats, power snacks, deodorant, tissues, and more.
Golden Ticket: Have a Positive Attitude
Embark on your first ski trip ready to have a fun adventure and learn from any mistakes you make along the way. After all, your mindset has the potential to make or break the experience!
And speaking of fun and adventure at the mountain, if you haven't participated in the Vertical Challenge yet, we'd LOVE to see you there. The VC is a series of free casual ski and snowboard races held at ski resorts throughout the Northeast during each winter season. Over the years, we've helped many first-time skiers and snowboarders through their first racing experiences. We've got your back.
In addition to the races, attendees also enjoy a festival element, snowy activities for all ages (especially kids!), and a lot of prizes. It's an amazing event for the whole family, and you don't need to be a pro skier or snowboarder, or even compete. The idea is to have a great time and have fun together!