As the countdown until summer dwindles, our offseason and summer events begin. We began with out-of-season events last year and we loved being involved with competitors, families, and friends all year long. It is a privilege to meet all types of athletes and represent some of our loyal sponsors all year long!
This summer we will be bringing Olivia's Organics, Stonyfield, Dermatone, ALOHA, and Super Coffee sampling tents to events all over New England. You can find us in our sponsor tents handing out samples of our sponsors' fantastic products. Some featured giveaways include Dermatone's flavored lip balms, Stonyfield's yogurts, Olivia's Organics juices, ALOHA's protein bars, and Super Coffee's protein coffees.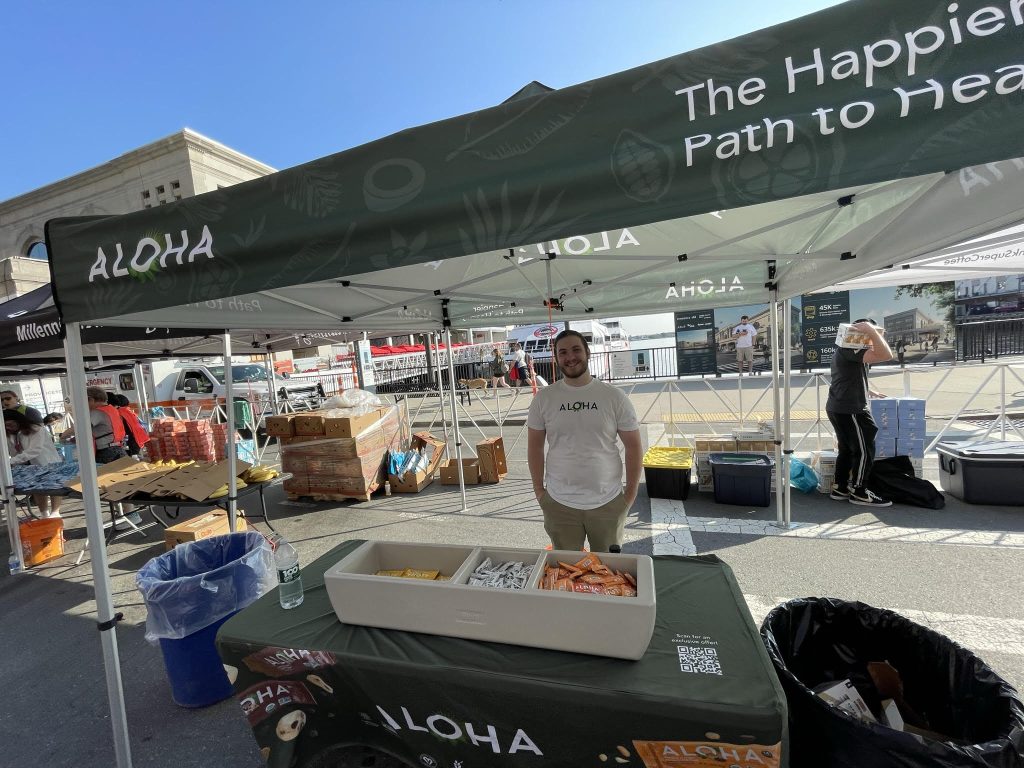 We look forward to meeting all the racers, fans, and supporters. Hopefully we may see some of our own Vertical Challenge participants! Stop by our tables to say hello, grab a sample, snap a photo, and tag us!
Make sure to follow us on our social media platforms for live experiences, updates, and maybe to be featured on one of the pages!
Instagram: @ski_vc
Facebook: @VerticalChallenge
Twitter: @skivc1991
TikTok: @ski_vc
LinkedIn: @vertical-challenge-llc}
2023 Spring-Summer-Fall Events
Event
Location
Date
Website
Boston Waterfront 5k
Boston MA
Sunday, June 04, 2023
www.mccourtfoundation.org
C.A.R.S. 4
Concord NH
Sunday, June 11, 2023
www.runcarsnh.com
Quechee Air Balloon Fest
Quechee VT
June 16-18, 2023
www.quecheeballoonfestival.com
C.A.R.S. 5
Concord NH
Sunday, June 25, 2023
www.runcarsnh.com
Hooksett Welcome Center – Northbound 
Hooksett, NH
Friday, June 30, 2023
https://www.visitnh.gov/seasonal-trips/getting-here/rest-areas-and-welcome-centers
Hooksett Welcome Center – Northbound
Hooksett, NH
Friday, July 14, 2023
https://www.visitnh.gov/seasonal-trips/getting-here/rest-areas-and-welcome-centers
C.A.R.S. 6
Concord NH
Saturday, July 15, 2023
www.runcarsnh.com
Hooksett Welcome Center – Northbound
Hooksett, NH
Friday, July 28, 2023
https://www.visitnh.gov/seasonal-trips/getting-here/rest-areas-and-welcome-centers
C.A.R.S. 7
Canterbury, NH
Saturday, July 29, 2023
www.runcarsnh.com
SoulFest
Topsfield MA
August 3-5, 2023
www.thesoulfest.com
Hooksett Welcome Center – Northbound
Hooksett, NH
Friday, August 11, 2023
https://www.visitnh.gov/seasonal-trips/getting-here/rest-areas-and-welcome-centers
Delta Dental/Elliot Corporate
Manchester, NH
Thursday, August 10, 2023
www.millenniumrunning.com/event-list
ASICS Falmouth Road Race
Falmouth MA
August 17-19, 2023
www.falmouthroadrace.com
Hooksett Welcome Center – Northbound
Hooksett, NH
Friday, August 25, 2023
https://www.visitnh.gov/seasonal-trips/getting-here/rest-areas-and-welcome-centers
Riverfront Fest
Salisbury Beach, MA
Saturday, August 26, 2023
https://www.newburyport.com/riverfront-music-festival/
Hooksett Welcome Center – Northbound
Hooksett, NH
Friday, September 1, 2023
https://www.visitnh.gov/seasonal-trips/getting-here/rest-areas-and-welcome-centers
Common Ground Country Fair 
Unity ME 
September 22-24, 2023 
 https://newportboatshow.com/ 
Phantom Gourmet 
Waltham, MA 
Saturday, September 23, 2023 
https://www.visitnh.gov/seasonal-trips/getting-here/rest-areas-and-welcome-centers
Hooksett Welcome Center – Northbound
Hooksett, NH 
Friday, September 29, 2023 
https://www.visitnh.gov/seasonal-trips/getting-here/rest-areas-and-welcome-centers
Andover Days 
Andover, MA 
Sunday, October 01, 2023 
 https://andoverdays.com/ 
Hooksett Welcome Center – Northbound
Hooksett, NH 
Friday, October 6, 2023 
https://www.visitnh.gov/seasonal-trips/getting-here/rest-areas-and-welcome-centers
NYC Food and Wine Festival 
Manhattan, NY 
October 12-15, 2023 
 https://corporate.nycwineandfoodfestival.com/ 
Boston Veg Food Fest 
Boston MA 
October 14-15, 2023 
https://bostonveg.org/foodfest/ 
TASTE! PHILADELPHIA Festival of Food, Wine & Spirits
Valley Forge Casino Resort, PA
October 20-21
https://www.phillytastefest.com/
Rhode Races
Narragansett, RI
Sunday, October 29, 2023
www.rhoderaces.com