At the Vertical Challenge, people of all ages and ability levels come together to hit the slopes. That's the beauty of it! But if you're a first-timer, we do recommend ski lessons to help you get off on the right foot.
Professional skiers make it look so easy. They gracefully glide down the mountain at top speed, effortlessly dodging any obstacle in their path. Doesn't watching them make you want to strap on some skis and follow their tracks?
As tempting as it may be to dive into the sport and learn through trial and error, this method puts you at risk for injuries. Ski lessons with a professional instructor will include key safety tips, so you can hit the slopes responsibly.
Plus, if you learn from a qualified teacher, you'll ski with good form from day one and avoid incorporating bad habits that you'll need to unlearn later when you advance to the next level. One of the key benefits of ski lessons for kids is that taking classes gives them a solid foundation that'll last a lifetime.
The good news is, besides setting you up to ski better and more safely, ski lessons can also be a lot of fun! In this blog post, we'll go through five things you should know before going to your first class.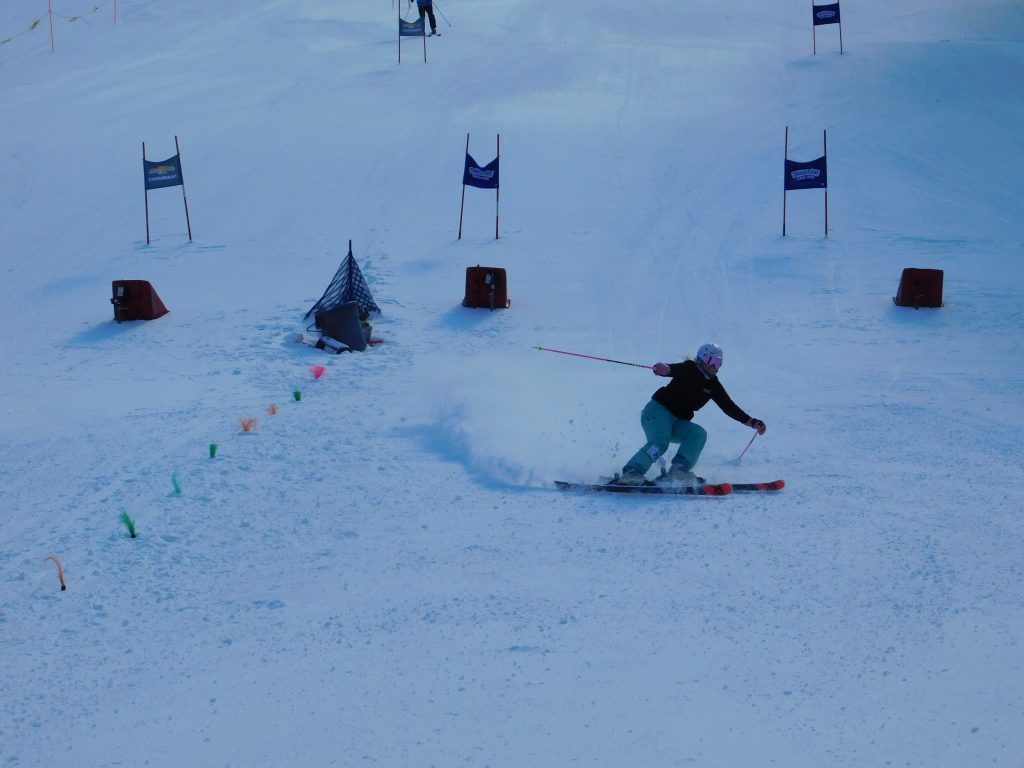 Individual vs group lessons
Before signing up for ski lessons, think about whether you'd prefer individual or group classes. The benefit of individual lessons is that the one-on-one attention from the instructor will help you advance faster and feel more confident that your form is perfect.
So if you only have time for a session or two, individual classes might be your best bet.
Group lessons, on the other hand, allow you to meet new people and have a laugh together while everyone gets their bearings on the slopes. They also tend to be the cheaper option.
Dress for success
As we covered in this blog post there are a few items you'll need in order to enjoy any skiing or snowboarding experience. You probably won't get much out of ski lessons if you're distracted by how cold and uncomfortable you are the whole time. 
So make sure you wear a water-and-wind-resistant coat and snow pants. It's also fundamental to dress in layers; that way, you'll stay warm while still having the option to remove garments after the exercise heats up your body. We recommend gloves, a helmet and goggles, too!
What you'll learn
What will the instructor cover on the first day of class? Of course, it depends on your level, but beginners are sure to learn a few fundamentals of skiing. The teacher will probably show you the best way to carry your skis (yes, there's a correct form for this, too). How to safely walk up hills while wearing skis is another one of the first things you should learn.
In the first few ski lessons, you'll get a chance to practice controlling your speed, stopping, and changing direction by shifting your weight. The so-called "wedge" position is a basic speed control method that beginners should master to set themselves up for success.
You might fall…
Sometimes, at the Vertical Challenge, we find ourselves horizontal in the snow. And it's no big deal! But, just as there's a proper form for skiing and holding skis, there's a proper form for falling. During your ski lessons, you'll learn where to shift your weight if you're falling to reduce the chance of injury.
It's all about attitude
Some people find that skiing comes easy to them. Other people… not so much. If you get frustrated, take a quick break and then go back to what you were practicing. It could be that you were just overthinking it. And don't hesitate to ask your instructor any question that comes to mind – that's what they're there for!
The satisfaction that comes from mastering a move that didn't come easily to you at first is unmatched, so don't give up! But also remember that you're there to have fun, not win a gold metal. With a good attitude, you can strike that perfect balance between challenging yourself and not taking yourself too seriously.
And remember, when you come to a Vertical Challenge event, we're happy to have you participate no matter how far along in your learning process – our races are for everybody!
Without further ado, we'll see you in class!